Try something new this spring with four great ideas to celebrate the season…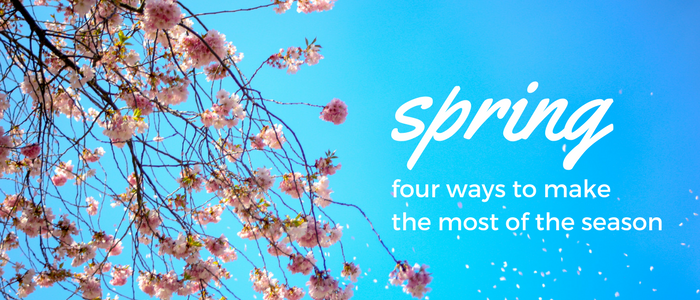 We are never too old to try something new, to add new relish and purpose to our days. Here are some ideas for spring and summer 2017, ideas that we hope will spark your interest, whether you are 57, 97, or anything in between.
We have survived another winter, and the dark, cold days are giving way to birdsong, sunshine and colourful spring shoots. This blossoming of late spring into early summer is a hopeful time of year. It is a time when many of us may feel a new energy, recognise the need to set out again, to try new challenges and realise new experiences.
An older flowering
This is the 21st birthday of Bealtaine, the national celebration of creativity as we age. During the month of May, hundreds of events are on offer for you to enjoy as either performers, participants or spectators. Think music, plays, reading, writing, film, dancing, painting, storytelling, and much, much more. These programmes take place in arts centres, theatres, libraries, galleries, community centres, local halls, care settings, cultural spaces and even in the open air. In the year that Bealtaine comes of age, the theme is to celebrate the contribution of older citizens past and present.
Find out more by visiting bealtaine.ie
Have pass will travel
You may be in the habit of using your travel pass for local trips only. But this is the time of year to consider pastures new. Free travel is available on all national public transport systems– bus, rail and commuter services. You may consider a trip on the train to Dublin to see the sights, to attend an afternoon concert, to catch a film. You could plan a day on DART with a friend, travelling between Howth and Greystones on a journey with beautiful scenic views. Choose to travel off-peak mid-morning or mid-afternoon so that you're sure of a seat, and plan lunch at one of many restaurants along the way or at either end. Free travel is also available on some services operated by private bus companies, and on some island ferries.
Our free travel scheme also allows travel within Northern Ireland using a Senior Smartpass card. For those who may not have visited Belfast during the troubled years, it is a revelation now to spend a day in a vibrant, successful city. The Titanic Experience in Belfast was voted the World's No 1 Tourist Attraction in 2016. That is quite an accolade, and the monument to Belfast's maritime heritage on the site of the Harland & Wolff shipyard where 'RMS Titanic' was built is well worth a visit. Information on free travel for over 66s in general, and on the Senior Smartpass is available from any Citizen Information Office.
Golden offers
Most of Ireland's visitor attractions, including ancient abbeys, museums, distilleries, houses, castles and gardens, offer discounts to people age 60+. If in doubt, ask – always enquire at a ticket office if a discount applies. For group bookings also, most places offer very keen discounts for seniors, and some may include extras such as free refreshments. (Some visitor attractions close on Mondays, so to avoid disappointment; do check opening times in advance). Many cinemas and theatres offer discounted tickets to older patrons on certain days of the week, or for afternoon performances. As you probably know, almost all museums, Office of Public Works Heritage Sites and Heritage Centres offer free admission to the general public as part of their overall policy. Some of these attractions include The National Botanic Gardens, National Gallery of Ireland, National Museum, the Chester Beatty Library, the Crawford Municipal Gallery, Cork and the Galway City Museum. If you have not visited museums or galleries since a long ago school tour, you may be happily surprised at what they offer today in terms of interest, spectacle, presentation and comfort. Many have a restaurant serving excellent coffee and good food.
Ireland's Golden Holiday offers are well known, and many hotels offer great deals in midweek and weekend breaks for over 55s. This may be combined with a spa holiday, or wellness retreat.
Visit goldenireland.ie to see more offers.
Giving something back
As well as new places to visit, you may consider a different new terrain. Have you thought of volunteering your time and your skills? Older people in Ireland are among our most generous and committed volunteers, and many find volunteering gives a sense of extra meaning and purpose to their lives. Many volunteer opportunities offer training. Where to start, and what to do? First stop could be Volunteer Ireland, an umbrella body supporting over 20 volunteer centres around Ireland.
Volunteer Ireland's website gives examples of volunteer opportunities and offers a helpful checklist. How many hours would you have to give? What kind of work do you enjoy? By answering these questions before you approach an organisation, you may be in a better position to choose something offers you enjoyment and achievement and benefits others – a case of win, win. Have a great summer.