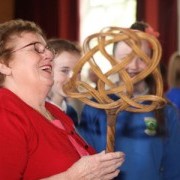 The Way We Were
The Way We Were is an intergenerational living history project. In the past the programme involved local older volunteers travelling to primary and secondary schools and nursing homes with a large collection of artefacts. The collection includes items from both home and working life, from times gone by. Items in the collection include manual and electronic type writers, early blow torch, welding equipment, tilly lamps, spinning wheel, dial telephone, bellows, various cooking utensils and equipment, ceramic jars, coins, milk bottles etc.
Our volunteer exhibitors have dipped into their own childhoods to show today's children what life was like when they themselves were younger. The programme provides creative opportunities for shared learning and intergenerational solidarity and respect. It promotes positive ageing, and changes and challenges the perceptions of older people for the better. It highlights the importance of volunteers, especially older ones who give their time and efforts to educate others and to stimulate conversations and an interest in Irish heritage and culture. The programme educates about the living histories of our volunteers in a fun, relaxed and informal manner. Our volunteers explain and demonstrate the purpose of each of the items in the collection, demonstrating how they were used, making the link to advancements in technology i.e. from a manual type writer to a computer, or a dial telephone to a mobile.
The aim of this activity and our programme "The Way We Were" is not only to promote and encourage an interest in our history, culture and heritage, and to educate others about same, but also to attract new volunteers who will help us to promote the travelling exhibition in new locations when the restrictions of Covid-19 are lifted and we can safely return to normal.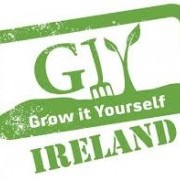 Third Age Garden GIY
The Third Age Members Garden began in spring 2015 and celebrated its first year with a crop of vegetables – cabbages, carrots, lettuce, onions, potatoes, scallions, tomatoes – fruits: apples, blackcurrents, gooseberries and pears – and herbs. The initiative has been supported by the members of Men's Shed and been enthusiastically received by members who are happy to buy the produce they have grown. The raised beds help with access, and members are very happy to buy the produce they have helped to plant and nurture.