Alice, a vibrant 87-year-old woman, exemplifies the true meaning of aging gracefully. Despite experiencing the sudden loss of her beloved husband Billy eight years ago, Alice maintains a happy and positive outlook on life. Born and Bred in Co Meath, Alice moved to her home after marrying Billy, where they raised their thirteen children. With a close-knit family, many of her children and grandchildren live nearby, providing her with abundant love and care.
She considers herself blessed to have such a supportive family. Someone stays over every Sunday night, accompanying Alice for shopping and helping her collect her pension every Monday. "I am fine on my own, but when someone stays, the house feels different. It is great to have the company," Alice expresses gratefully.
To further enhance her social interactions, Alice benefits from the companionship of Eileen, from AgeWell. Eileen, who resides in Rathmolyon, joined AgeWell in 2018, shortly before retiring from her role as an HSE home support worker. She believed that volunteering with AgeWell would help maintain her connection with older individuals, ensuring her resources were utilised in reaching out to others in need. The training provided by AgeWell proved valuable to Eileen, as it introduced her to a different approach in interacting with people. "As a home support worker, you don't have time to listen to people's private lives. With AgeWell, I learned how to listen, and this is what I do now—go in, give them the time to speak, especially at the start of a visit. You listen," she explains.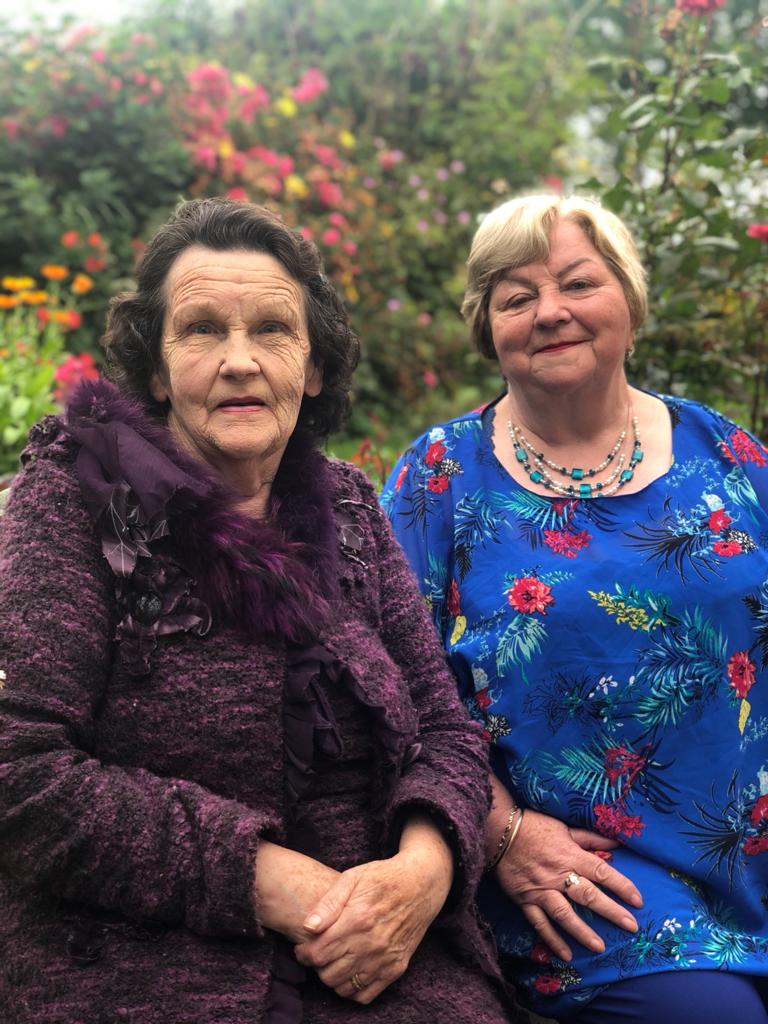 Alice is one of the eleven clients whom Eileen visits as an AgeWell companion. Eileen holds great affection for all her clients, Describing Alice, Eileen says, "Alice is caring, bubbly, not afraid of anything.
To ensure Alice's welbeing, Eileen utilises the AgeWell App to monitor her health. The app proves highly beneficial, highlighting any minor health concerns that may arise during visits. Eileen appreciates this feature as it allows her to address potential issues promptly by contacting the AgeWell team. She recounts an incident where a client mentioned having a fall, which he had initially hesitated to report, not wanting to make a fuss. However, the specific questions asked by the app gave him an avenue to share his experience. Eileen emphasises the importance of taking falls seriously and identifying their causes.
Both Alice and Eileen find the AgeWell program to be a win-win initiative for Companions and Clients alike. Alice takes joy in reading, adores music, and considers herself fortunate in life. Despite living alone, she feels secure with her Socially Monitored Alarm system, which provides her with a sense of safety. She acknowledges the plight of those who lack regular visitors and expresses gratitude for her family's constant presence. They take her out and about, ensuring she never feels isolated. "I live on my own, but I have AgeWell, and the family is always there, bringing me out and about. They couldn't do enough for me," Alice affirms.
Eileen echoes Alice's sentiments, expressing her delight in being an AgeWell Companion. "I am thrilled with my AgeWell work, and every visit is a pleasure. I love it. It gives a sense of contentment. These days, every day is a bonus," she proclaims.
Alice's story serves as an inspiration, showcasing the power of a positive mindset and the support systems like AgeWell that enable older individuals to live fulfilling lives. Through the dedication of companions like Eileen, AgeWell continues to make a meaningful difference in the lives of older people, fostering connections and ensuring their well-being.
Paul O'Rourke AgeWell Lead Care Co Ordinator "AgeWell is more than just a Companion Service; It's a lifeline that connects Clients and their Families to a caring community, ensuring the wellbeing and happiness of our loved ones as they age"
AgeWell is actively recruiting new Companion's across County Meath. For further information on becoming an AgeWell Companion, please contact the AgeWell Team at agewell@thirdageireland.ie or reach out to Paul at 087 3186710 We would be happy to provide you with all the details you need to get started on this rewarding volunteer journey.