21st November 2017
Become an AgeWell Companion
Time: 2:30 PM
Location: Third Age Centre, Summerhill, Co. Meath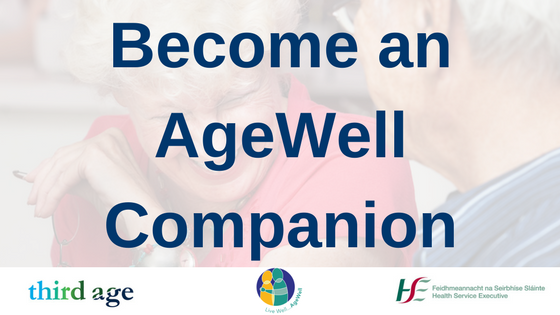 We are currently recruiting volunteers, men and women aged 50+ to become AgeWell Companions in South County Meath. Learn how to forge healing relationships through conversation and engaged listening.
AgeWell Companions will receive training to become part of a team of companions offering one-to-one companionship and community support to older people in their own homes. These older people may be people living with an illness, socially isolated or living alone or simply in need of a chat each week.
IS THIS SOMETHING THAT WOULD INTEREST YOU?
Join us at our information sessions every Tuesday afternoon @ 2:30pm in Third Age Centre, Summerhill Co. Meath. For further information on becoming an AgeWell Companion contact our National Office at nationaloffice@thirdageireland.ie, call (046) 95 57766