"I do appreciate that life can become more difficult for some people due to ill health as they age."
Posted on 20th February 2023
Third Age is part of an Alliance that recently launched a campaign to combat ageism which categorises and divides people, leading to harm, disadvantage and injustice. One way to change public thinking is to illustrate the diversity of older people and how they are continuing to contribute to society. Third Age profiles some of our older volunteers who prove that age is no barrier to activism, wisdom and an optimistic attitude to life.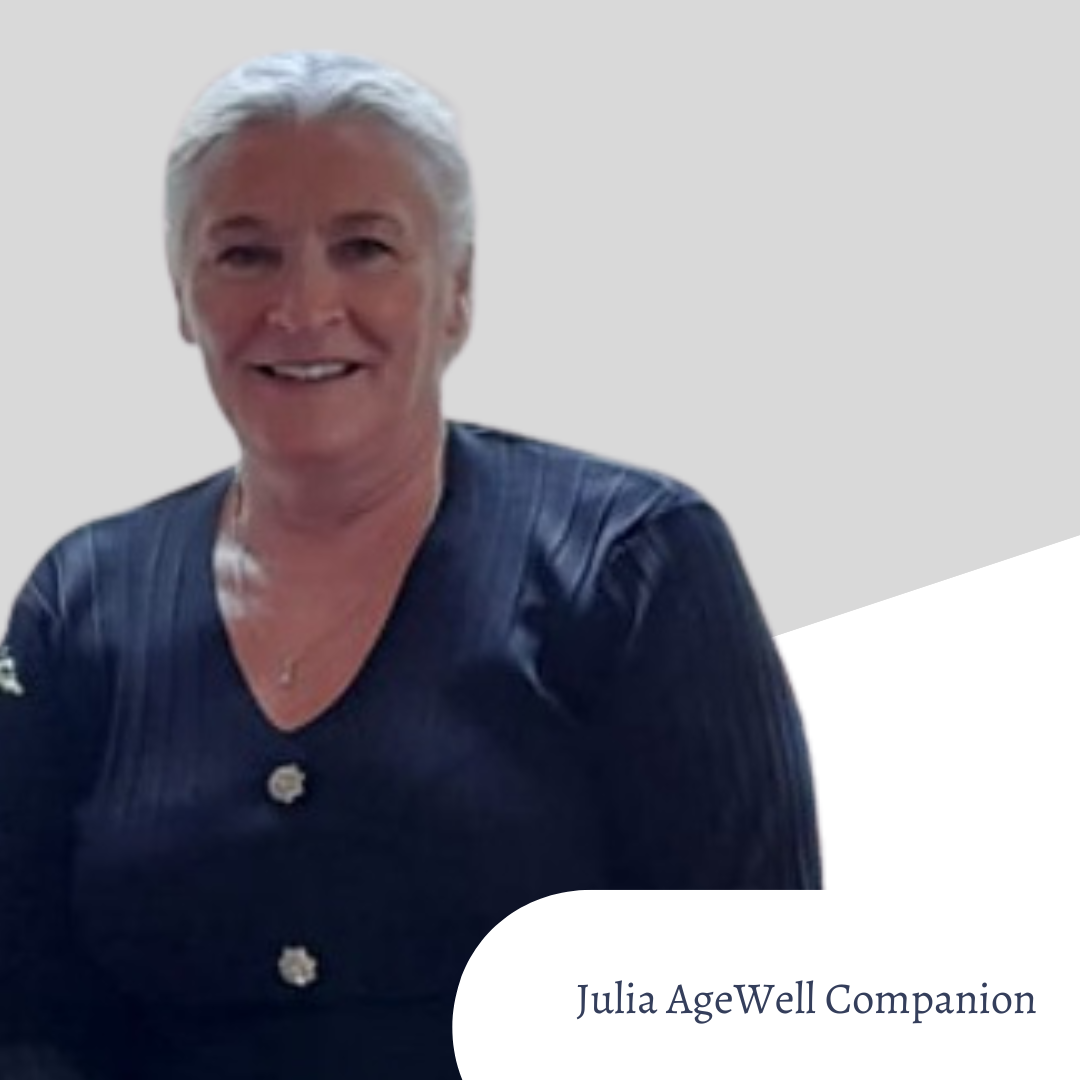 Julia Nelligan who lives in south Meath has been an AgeWell Companion for over a year. 'I saw the notice in the parish newsletter, I had recently retired, had some spare time and felt it would be a nice thing to do. It has been a very enriching and fulfilling experience and I am very glad I did it', she says.
AgeWell supports older people to remain safer and healthier in their own homes through weekly visits and social contact. Clients may be referred to the programme by the HSE, GP, other health professional and clients can also self-refer. Companions who should be 55 or over, will receive initial training and ongoing support from Third Age.
She has five clients aged from 70s to 90s, some living alone, some with spouse or family. She normally sees these at the beginning of the week, phoning in advance to make sure the day and time suits. 'I am conscious that this person has very kindly invited me into their home. I am the visitor, so it is important to be respectful of their needs and their wishes. Some people have a number of carers coming in and out as well, so it can be a busy household. Others are more isolated, cannot easily get out and have far less social contact. We all need people in our lives', she says
'It can take time to build up a rapport, to get to know a person. I tend to go with the flow. I don't give advice. I do a lot of listening. People may like to talk about various subjects such as current affairs, childhood memories, nature. These are people who have lived full and varied lives.
'To be a good Companion, I think you need to be patient, interested, kind, a good listener, you need to have empathy, and to be self-aware. You also need time so that you are relaxed and can be fully present with the other person', she says.
Companions are also trained in the use of the phone Health App, a health screening tool that gives an assessment of client's health. Julia says it is a useful tool. 'We fill a health questionnaire with the AgeWell client on alternate visits. The results are sent to the AgeWell Care Coordinators at Third Age via the health App.
Care Coordinator Paul O'Rourke sketches the bigger picture: 'The App allows us to continually assess client health issues and appropriately refer them to the local HSE Primary Care Teams and other community services as necessary. Other problems can also be identified at an early stage, enabling clients to be linked to the appropriate treatment in the right place at the right time,' he says.
Companions normally make a second phone call between visits. 'I would make my phone call towards the end of the week, and I will always ask if they want a call, if it will suit them. We need to be respectful of the person at all times', says Julia.
Married, with two adult children, she took early retirement from a career in the health service. She stresses, however, that anyone can be an AgeWell Companion carer irrespective of past experience provided they have the space and time to give to the role. 'It is a peer to peer service, and the fact that we are older people with maturity and life experience does make a difference, she says.
Julia Nelligan says "I have not personally experienced ageism, however I do appreciate that life can become more difficult for some people due to ill health as they age. Accessing services such as primary health care, hospital appointments and banking, as well as day-to-day living essentials such as self-care, shopping, cooking and housekeeping can become problematic.
'We need more easily assessable community supports such as good public transport and home help services. There are clubs to join, new skills to learn, and many older people are keen to partake but may need support to do so. In the absence of this support there can be social isolation, loneliness and poorer health outcomes. Every person deserves to live a healthy fulfilled life regardless of their age', she concludes.
Learn more and download the full report and executive summary
The Alliance represents the collective thinking of seven significant NGOs working in the age sector, uniting their learning from working with the diversity of older people and the issues that older people face. The seven-member organisations are Active Retirement Ireland, Age & Opportunity, ALONE, The Alzheimer Society of Ireland, Irish Hospice Foundation, The Irish Senior Citizens Parliament and Third Age.