Meet Ita AgeWell Companion
Posted on 11th December 2019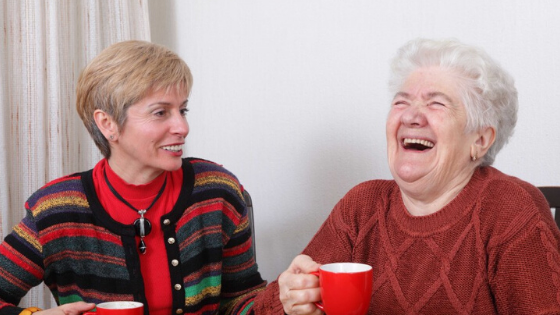 Ita Healy is a Companion on the AgeWell programme. A qualified nurse, she has a Diploma in Social Care. Ita returned to Ireland some years ago to nurse her mother who had contracted dementia and worked in St Joseph's Hospital, Trim while caring for her mother:
"The community aspect of caring for older people has always appealed to me, the idea of supporting people in their own homes, rather than offering a programme only when they come to day care," she said.
She has been a very active citizen representing HSE on the Age Friendly Trim Steering Group who conducted a 'Walkability' audit of the town regarding people with mobility difficulties. This led to a meeting with day service clients to discuss the issues raised. Ita serves on the Older People's Council and Later Life Network. Ita is also a member of the Age Friendly Alliance sitting alongside representatives from the HSE, Third Age, the local authority, Meath Partnership and others.
Ita describes her experience with AgeWell: "The AgeWell programme has brought together a lot of what I have been doing. It was a good fit for me. The training was very good. There were some areas I was already familiar with, but as you know we monitor our client's health through the use of an app, and we had to learn this technical aspect. Everything was very well thought through, the back-up we would need entering someone's home, all health and safety aspects, and our own Information Manual", she said.
Ita visits six clients each week, and phones them between visits. Clients range in age between 80 and 95, some have families nearby, others have less support. "I tend to visit in the afternoons, and our contact can vary between personal chats and more substantive issues when a client may have a problem and want to discuss it. We don't give advice as such, but we can talk through options, and point clients in helpful directions. I am usually with the client on my own, but I also try to see the families and would leave a leaflet or other information they would find helpful. Families are generally appreciative".
The Companions meet weekly as a group with AgeWell staff. Ita says these meetings are very important and were particularly valuable at the start of the programme when everything was new. "There is a serious element to what we do. The early meetings were extremely reassuring, we had lots of questions, we shared our experiences. We received phenomenal support from AgeWell and we still do.
"You get a great deal of satisfaction from the work. Do we make a difference? The best way to say it is I think our clients would be horrified if they felt we weren't coming back! They get great value out of it, everything from helping with substantive issues to the lady that said to me last week 'I look forward to you're coming. I love the chat!'"