Meet Louise and her 103 year old best friend
Posted on 24th October 2016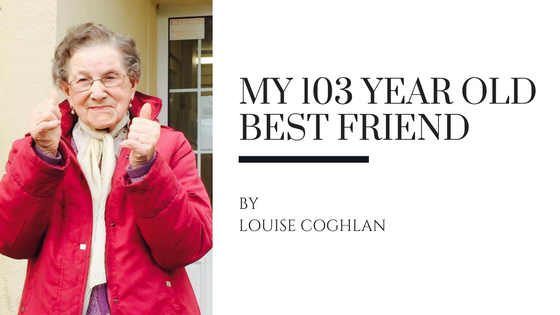 Louise Coghlan tells us more about her amazing grandparent and why she means the world to her...
My name is Louise Coghlan and I am 32 years old. My best friend is Nancy Stewart and she is 103 years young. As an added bonus she is my granny but first and foremost she is my best friend. To think that my best friend is over 103 years in the world is hard to comprehend. My gran has been loving life for longer than anyone could even imagine.… Imagine having lived 103 years and still be in great humour? Imagine having eyes that have seen one hundred and three years go by and feet that have walked one hundred and three years of steps? She really is a real life miracle. Being just 32 years of age, I just can't imagine or fathom what it would be like to be here for 70 more years and still be smiling.
If you were to meet Nancy, you would think she was only 32 at heart or maybe 12 somedays! She just loves life…plain and simple. And that is my favourite part about her. I love lots of parts about her and there is so much to love but her heart is my favourite part.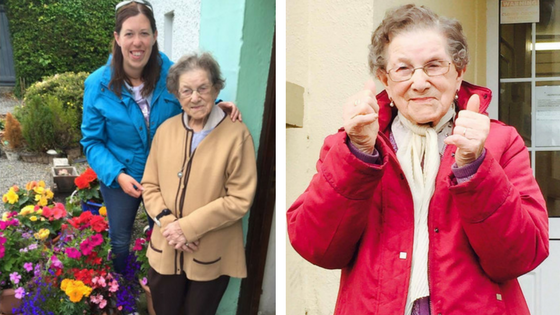 I love her smile! I love her laugh. I love her passion for living life to the full. I love that I've never seen her in bad humour ever! I love her determination to live on her own at 103 and to live in her own home. I love her fight to never give up living. I love her wit and her openness to others. I love how she loves her family and how she loves her friends. I love that at 103 she is still making new friends and always wants to know what is going on in the world. I love her conversations with Joe Duffy everyday while she sits by her radio! I love how she loves her food. I love how she continues to smile even though each year she loses another friend or another member of her family to heaven but she lives on and gives us all the strength to live on too.
Her heart is why we still have this beautiful lady in our lives. Her heart has never stopped beating and her heart has never stopped loving life and it is this part I love the most. She is my inspiration and I hope I have a bit of her heart in mine. She is my best friend and there isn't a day that doesn't go by that I don't want to go visit her. She is the most amazing lady and she has given us so much happiness, we could never repay her. She is the type of lady that you have to meet to believe and once you meet her, you just want to keep going back to spending time in her presence.
And why you might ask? Well, because of that heart! Yes it's special… it's oh so special. Her heart is so big and so loving and oh so funny that she will fill your heart with that same love. No matter what worries or doubts you carry in yours coming in the door, you leave feeling full of love and full of gratefulness for the world on the way out that same door. She is a miracle and she's truly my best friend. I'm so lucky…it's that simple. Even in writing this, I'm smiling just thinking of her. My smile is the smile gran has given to me so no matter where I go, I bring her with me because she is in my heart and she is in my smile. I hope someday I can be as good a best friend to somebody as she has been to me!
Do you know a brilliant grandparent? Why not nominate your loved one online today for Specsavers Grandparent of the Year?