Meet Noemi, an English language student with Fáilte Isteach in Bray
Posted on 27th April 2016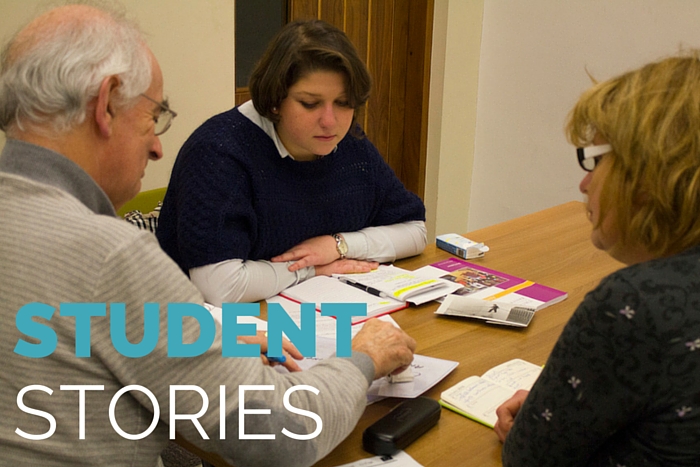 Meet Noemi, a Fáilte Isteach student from Sicily, Italy. She has been attending classes in Bray since December 2015. In this blog, she shares her experience of living in Ireland and the impact Fáilte Isteach has had on her life...
Despite visiting Ireland on holiday before I moved here, when I arrived in Ireland to stay, I still felt like a tourist. Even though I knew this was now my new home, I still felt like I would be flying back to Italy at the end of my 'holiday'. As the first weeks passed, I realised that I wouldn't be taking that flight back to Italy and my new life was now rooted in the green grass of Ireland! I also began to understand how important it was to settle in; to find a new balance; discover new activities and get to know new people.
Before hearing about Fáilte Isteach, I had honestly discarded the idea of going to language school. Why? Well, in my previous experience, I haven't found more formal classes to be as useful. You can often find yourself in a situation in traditional language schools where there are a lot of students who speak your language. Naturally you hang out with them and then, as a result, have less time to practice English and speak more in your native language.
If you already have an idea of how English sounds and works (and even if you don't), speaking with local people and native English speakers is vital to improve. And it's this practical application of language that can turn your imperfect English into perfect.
After a couple of weeks sneaking around my local library's shelves, I spotted the Bray Area Partnership and discovered that English classes were being held by a team of volunteers in St. Peter's Parish in Little Bray. I immediately thought this was a great opportunity to get involved in my new community and to get to know others now living in Ireland from other parts of Europe and the world.
In my first class, I met with the Bray coordinaor and the volunteer tutors and was placed in an advanced group, which was (and is) for me very stimulating. And so, my great experience as a student at the Fáilte Isteach began! I don't hide that since then Wednesday is my favorite day of the week and I really wait for it with the excitement of a child. For me attending English lessons is the same as going out with my friends, with the advantage of learning at the same time and having the chance to enjoy a cup of tea and some sweets during class break.
My tutor John, is a real Irish man, very fun and kind. His lessons are not boring at all like the academic ones, but are really interactive and in all the conversations everyone has a chance to express themselves. My team is composed of people from Romania, Hungary and Spain and although we speak very different languages and have very different cultures, at that small work desk we all sit under the same color flag. It is no coincidence that I've written the word 'team': it is this that we are – a team of curious people, friendly and really fun with one aim: to improve our English while smiling.
The lessons with our tutor are really well-organised, efficient, multi-faceted and never too heavy. We use lots of materials to learn English and from reading newspaper articles and magazines, I've been able to learn a lot about Ireland's history and culture. I've discovered new places which I've then visited and others which I plan to visit.
The most beautiful thing is that I'm not only learning standard English, if you get what I mean. Through Fáilte Isteach I have also been exposed to English idioms and sayings, which are definitely one of my favourite parts of the lessons. My English is really getting good and I can really see the improvements in my everyday life.
For me, to be a part of this community as a student of Fáilte Isteach is like being part of a big group of friends. It has been until now – and I really have no reason to believe it would not continue to be – an amazing experience! This activity has allowed me to become immersed in Bray life, on the Irish and on the multicultural side. I would say that I could have not chose a better activity to feel like I have a home far away from home. It's a wonderful feeling to know that Ireland is now not only my other 'home' but also the greenest one.
Are you interested in learning English in Bray or any of our class locations? Or maybe you would like to join a Fáilte Isteach group as a tutor? Find out more about the project and your local class