Seniorline – helping callers from Ask to Zest
Posted on 3rd August 2017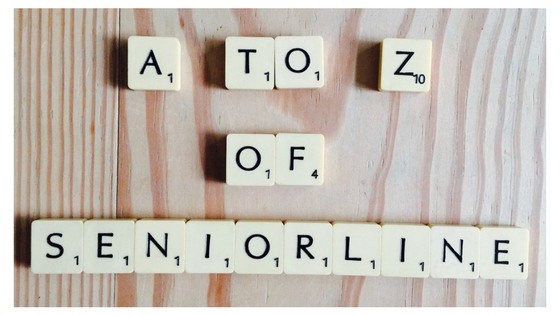 The heart of Seniorline is listening – listening to each caller in a way that helps them tell their story, and feel heard.
For many callers, this is enough. They are able to explain why they called and hopefully receive the support they need. Often, in the conversation, they gain a new understanding of their own situation. Sometimes, in the telling, they find their own resolution.
Occasionally, a caller may need to look at their options sorting out a problem, and in discussing these, they also may help themselves.
Other callers may phone for information, and a volunteer may be able to give the information needed, or direct to a service to help further. This is part of Seniorline's A-Z Directory of Referral Services, numbering over a hundred organisations, government departments and services to which callers may be referred.
Overall, these contacts answer most of the information needs callers have, covering services relating to alleviating loneliness, entitlements, home security, disability, social work support, and many many more.
The growth of such services is testimony to the fact that as the older population continues to increase, so too has the variety and scope of organisations available to help and support. In this voluntary and community sector, each organisation has its own place and space, delivering support to its own client group.
So while Seniorline advocates on behalf of callers and older people generally, other organisations, such as Age Action also has a strong advocate reputation speaking up knowledgeably on the needs of older people in terms of income, pensions, human rights, community, nursing home care and more.
Age Action also provides a national Care & Repair Service in which the householder pays only for the materials used. Small repairs and minor home and garden tasks are covered. Most requests are for minor paint jobs, changing plugs, fuses and light bulbs, hanging curtains – the kind of jobs that older people may no longer be able to do themselves. As well as saving people money, the service means that an older person is not at risk of employing an unscrupulous tradesperson who may take advantage. (The service will check a quote a householder has received elsewhere to see if it fair and reasonable), www.ageaction.ie
The need to feel safe at home is something that many help line callers want to talk about, and relevant contacts here can be extremely helpful. We are pleased to tell callers about the Seniors Alert Scheme which provides personal monitored alarms to help people to continue to live securely in their homes with confidence, independence and peace of mind.
This scheme is supported by the Department of the Environment who make grants to householders to buy the alert through community and voluntary groups registered with Pobal. (Pobal is a not-for-profit agency which funds community programmes).
We can also tell callers in rural Ireland about the Community Alert Text Scheme managed by Muintir na Tire. Older people may register to receive a text if they need to be particularly watchful, or alternatively to have neighbours phone numbers available to them, allowing them to phone if they need support. Older people in the scheme are encouraged not to hesitate to contact a listed neighbour for practical help helps such as a visit to the local shop, post office, GP, or even a hospital appointment. This kind of organised good neighbourliness can make all the difference, particularly if you live alone, as many of our callers do.
Some callers to Seniorline tell us they phone to hear 'a friendly voice', in this context, we have pleasure in spreading the word about an allied service known variously as the Good Morning Service, the Morning Call or the Friendly Call Service. Operating in a growing number of towns round Ireland, this volunteer-led service contacts a number of local older people regularly or daily to make sure they are safe and well. The service may be set up by a local voluntary group, an Area Partnership or other local initiative. It is not yet so well-known, so we may encourage a caller to find out if there is such a service in their area by contacting their local health centre, and, if they wish, to register their name.
Many callers tell us we are their lifeline. Speaking on the phone gives company with anonymity. A phone conversation is safe, non-threatening and completely private. Others would prefer if there were more people to visit and sit with them a while. A number of callers see very few people and if you are frail or housebound, your social contact can be limited or non-existent. So the good news is that many organisations working with older people are offering a visiting and befriending service to those living alone. Some of these organisations have formed themselves into Befriending Network Ireland, (BNI) an umbrella group of telephone and face-to-face befriending services. BNI is co-ordinated by Alone.
A crucial value of our signpost list is putting callers in touch with useful services not hitherto known to them. One example is the library managed by National Council for the Blind in Ireland, (NCBI) The NCBI library provides weekly recordings of national newspapers/magazines of people's choice, downloadable audio books and braille versions of audio books. These are posted directly to the client's home in a special returnable package. The service is free of charge, including free postage.
Callers without particular problems may contact Seniorline at a time of major change in their lives – typically retirement. Those who prepare have a better chance of enjoying a happy retirement, and will have an opportunity to think about managing their finances, their time and their lifestyle. We can refer callers to the Retirement Planning Council of Ireland that provides retirement planning courses for individuals and their spouses.
In addition, once you have made the transition and are out the other side, what will you do with all that spare time? We have pleasure in telling callers about Active Retirement Ireland, a national network of 400+ local associations offering activities to over 23,000 members.
Finally, we want to mention the number we give most. This is the Citizen Information Services Helpline 076 1074000 Mon – Fri: 9am – 8pm. A comprehensive, speedy, and accessible service for the general public. Provided by the government, this service has detailed, accurate and up-to-date information on: consumer affairs, death and bereavement resources, education/training, emigration, employment, environment, family, government in Ireland, health issues, housing, justice, money, social welfare, tax, travel and recreation, other helplines, other relevant information and useful organisations. We have confidence that this number will provide information on many of the issues presented to Seniorline.
Seniorline is available every day of the year from 10am to 10pm. All calls are confidential and we are open when many statutory services are closed, so don't be alone with a worry, share it with us, and feel the burden lift a little', he said.
Seniorline Freephone 1800 80 45 91 open 10am to 10pm every day of the year.