Staying in touch can add to our happiness
Posted on 11th December 2018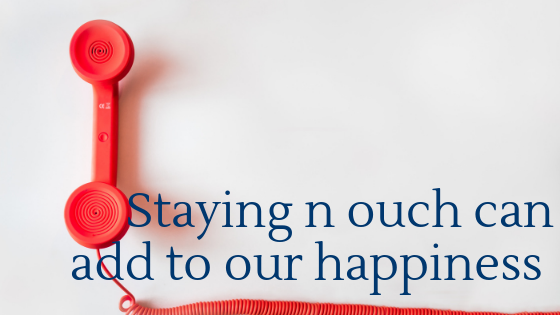 Staying healthy, caring for a pet, playing bridge and going dancing are some of the activities that help older people in Ireland stay happy. When asked what bucks them up when they feel down, over 90% said it was getting out of the house. Other pick-me-ups included going on holiday, seeing family, cooking/baking and talking to their spouse.
Older people were asked to name one government action to benefit older people. Suggestions that figured most prominently were around health, housing and income. Some exasperated respondents suggested the government could help us all best by 'going away' or 'disbanding', and there was a strong request that Government ministers listen to older people and accord them the respect they deserve.
The Happiness Questionnaire created by SeniorLine was disseminated to older people at the 55 Plus Expo at the RDS, to readers of the Senior Times and in a supplement for older people published by a national newspaper. The largest category of respondents were married people aged 55-65, closely followed by marrieds aged 65-75. Men and women living alone, through widowhood, single status, separation or divorce made up the third largest group.
While most respondents lived in Dublin, people replied from towns, villages and remote areas throughout the country. Most notable across all categories of age and location was the primacy given to good health, taking exercise and having an active social life. A significant minority cited doing voluntary work, having a strong faith and caring for others as adding significantly to feelings of worth and well-being. Perhaps, unsurprisingly, those living in more rural areas talked about the importance of local facilities and the value of good neighbours as adding to the quality of their lives.
Respondents called on the government to shorten waiting lists for hospital procedures, and reduce car-parking charges in hospitals. More home help hours, an increase in home care packages were high on the list, as well as more long-term planning for small housing units for older people. This, it was suggested, would encourage people to downsize, freeing up larger properties for the housing market. Better public transport in rural areas would also add to the local communities – a surprising number of older people are interested in joining swimming clubs and local keep-fit facilities if only they could access them.
SeniorLine is Ireland's only peer-to-peer confidential telephone service for older people, and is a national programme of Third Age, the not-for-profit organisation that promotes the value of older people's contribution in their local community. The publication of the Happiness Survey coincides with new findings by TILDA, (the Irish Longitudinal Study on Ageing) which indicated that life doesn't decline linearly with age, but increases to a peak at age 68. Those reporting highest levels of social integration with TILDA had higher quality of life scores than those experiencing more social isolation.

SeniorLine receives over 1,000 calls a month and can confirm that callers feel better when they have social contact, with family, friends and SeniorLine volunteers. However, the finding on getting out of the house as an antidote to low spirits is particularly relevant as we head into winter. Many older people may be confined indoors if conditions are icy, and if they are in fear of falling. SeniorLine asks neighbours to remember older people living nearby and check that they have sufficient supplies of food, fuels and medicines. We also encourage callers to reach out themselves – to phone a friend, to invite people over for a short visit, to stay in touch with others as much as possible.