Operation Conversation at the Mill Shopping Centre, Clondalkin
Posted on 21st March 2016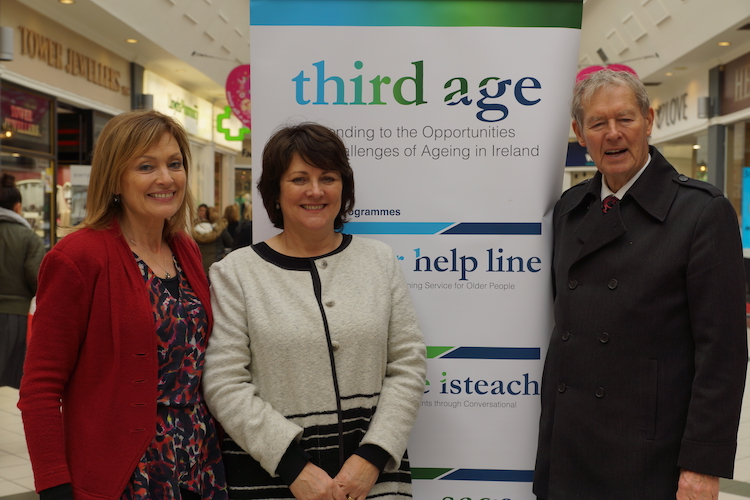 The Mill Shopping Centre, Clondalkin had a particular buzz on Thursday 3 March as shops and shoppers alike participated in Operation Conversation, to promote social contact between people of all generations. Just as Operation Transformation is helping to get Ireland moving, so Operation Conversation is helping to get Ireland talking – with equally positive results for health and wellbeing across all ages.
Local choir Clondalkin Active Retirement group 'Bright Side of Life' with conductor Peter Bramble and The RAMS, from Newcastle Active Retirement supported the campaign by singing throughout the day. A special thank you to Claire Cullen who organised the entertainment. There were information stands, a raffle, and face painting. RTÉ's Mary Kennedy and veteran broadcaster Mícheál Ó Muircheartaigh dropped in for a chat. Many businesses in the centre gave their support and we are very grateful for their generosity. Transition Year students from local school Colaiste Bríde, Clondalkin helped with fundraising for the day and their input was much appreciated. Gerry Mulcahy, Manager of the centre went above and beyond to facilitate Third Age and helped to make the day the success it was.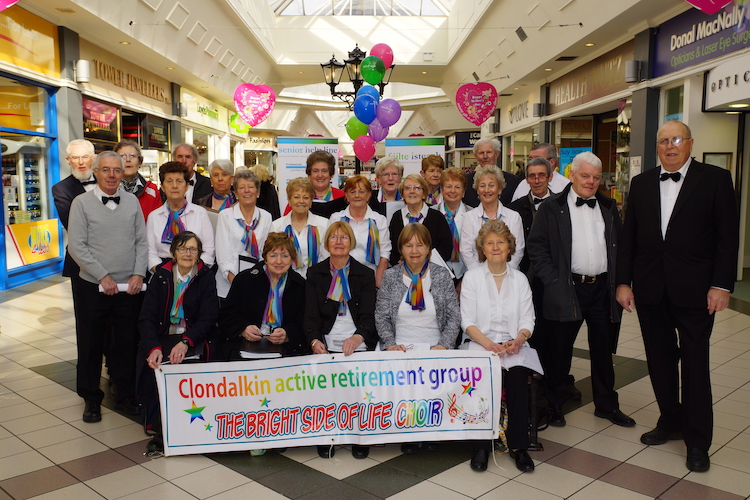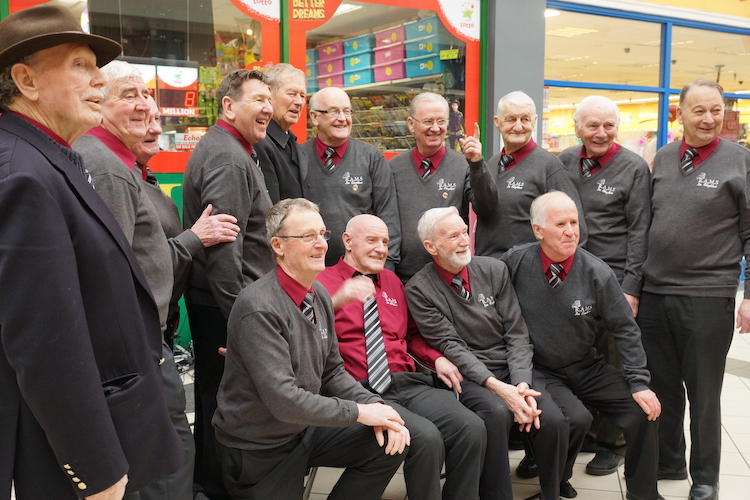 The Bright Side of Life Choir from Active Retirement Clondalkin and The RAMS from Newcastle
Communication through conversation is vital in helping to combat the loneliness and isolation of older people. It is hoped that Operation Conversation will prompt and facilitate a national debate around the importance of conversation. A supposition is that because of modern communication methods available – Skype to smartphones, you need never be alone. However, many of the new forms of communication have replaced, in part, speaking face-to-face, listening to each other, sitting around the table at family meals discussing, arguing and sharing different viewpoints. Older people in particular may be isolated and lonely even though the communications industry is booming.
Mícheál observed that "intergenerational conversation – that's the best of all. It is under attack at the moment with the excess of mobile phones. Young people are enraptured by new technology and the idea of Operation Conversation is to put the phones back in the pocket for a while and speak to people – you might learn things you would never learn through a computer. You go on a train or a bus now and everyone is an individual, at one time these places used to be a hub of conversation. Operation Conversation is trying to bring those days back."
Mary Kennedy, who was very supportive of the Operation Conversation initiative said, "the bottom line is that we are communicative beings; you don't get less but more interested in conversing as you get older. Sadly, sometimes older people are not considered or listened to and I think it's very important to give people the opportunity to tell their stories and be involved in the community. I would love to have the time back now with my own mother. I have so many questions that I would like to ask her but that opportunity is gone. My grandmother was a young bride in 1916 and lived off O'Connell Street – what I wouldn't give to ask her about her life now. Older people are a store; a treasure trove of wisdom, stories and experiences."
Third Age will reignite the Operation Conversation campaign on Saturday 1 October 2016, the UN International Day of Older Persons.
Find out more about Operation Conversation and the impact of the campaign