Third Age services support older people at home this winter
Posted on 23rd November 2018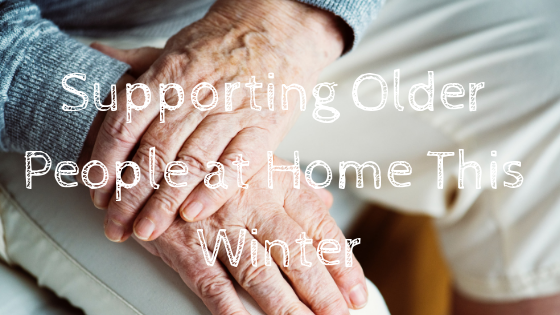 Third age welcomes Fianna Fail's call on the government to introduce seven day homecare packages for older people in the light of serious fears for their health and safety this winter. Mary Butler TD, Opposition Spokesperson for Older People said this move is necessary as the government continues to ignore the problems facing some of society's most vulnerable older citizens.
The HSE is promising an additional 550 homecare packages - however, there are currently 6,200 people waiting for approval of their home care packages, some waiting for up to two years. Mary Butler noted that the current gaps in social care provision means that some are left in bed from Friday evening until Monday morning, a completely unacceptable situation.
Third Age is part of a 25 member Homecare Coalition of leading NGOs who spoke out earlier this week on the urgent need to address the chronic underfunding of homecare for older people if a winter trolley crisis is to be avoided. The Homecare group has called for an investment of a ring-fended €10 million to provide much needed services over the Christmas period, arguing that failure in homecare has contributed to over-reliance on acute hospital care, particularly in winter. Other members of the Coalition include Care Alliance Ireland, Family Carers Ireland and The Alliance of Age Sector NGOs.
Aine Brady CEO of Third Age, our national programmes AgeWell and SeniorLine help to keep older people at home and contribute crucially to their health and wellbeing. "One size does not fit all. People need a continuum of care – targeted services, when they need them, at the level they need, and for as long as they need. We are talking about a menu of options. Our programmes help to fill in some of the gaps in current social care and give people choices," she says.
AgeWell is a peer-to-peer care model delivered in partnership with the HSE. Third Age recruits and trains AgeWell Companion to conduct home visits to older people, providing social engagement, any necessary interventions, and health and community links to services as required. Avril Hevey is AgeWell Manager: "65 clients are currently receiving services from our Companions. Our four month midline assessments shows a 25% increase in well-being, (compared to our baseline score), and an almost 90% decrease in the reporting of poor wellbeing. There has been a 17% reduction in clients reporting loneliness, with clients telling us they are more physically active and show significant improvement in fitness levels", she said.
Third Age's SeniorLine, Ireland's only peer-to-peer national telephone service is a companion service to AgeWell in also providing a tailor-made service to older people at home. SeniorLine is open every day of the year from 10am to 10pm and receives over 1,000 calls per month from older people in crisis, and/or needing more support to access social contact in their lives. Damian Leneghan is SeniorLine Manager: "We offer companionship and support to older people at home every day of the year. We provide that friendly listening ear, and our 170 volunteers are trained to deal with crises such as elder abuse, bereavement or suicide ideation. Very many older people tell us we are their lifeline, and thank us for being there," he said.
Third Age is committed to the continued social engagement of older people in Ireland, thereby improving their health and wellbeing and reducing loneliness. "The volunteers who deliver our programmes are all trained older people themselves. We see at first hand the potential of older people, and the value of peer services, where those with training, empathy and understanding are improving the quality of life for their more vulnerable peers. It is win-win," says Aine Brady.
SeniorLIne open 10am-10pm daily Freefone 1800 80 45 91
For more information, contact Anne Dempsey Communications Manager, Third Age 087-74500721