Busiest year to date as Third Age responds to many challenges for older people
Posted on 22nd December 2020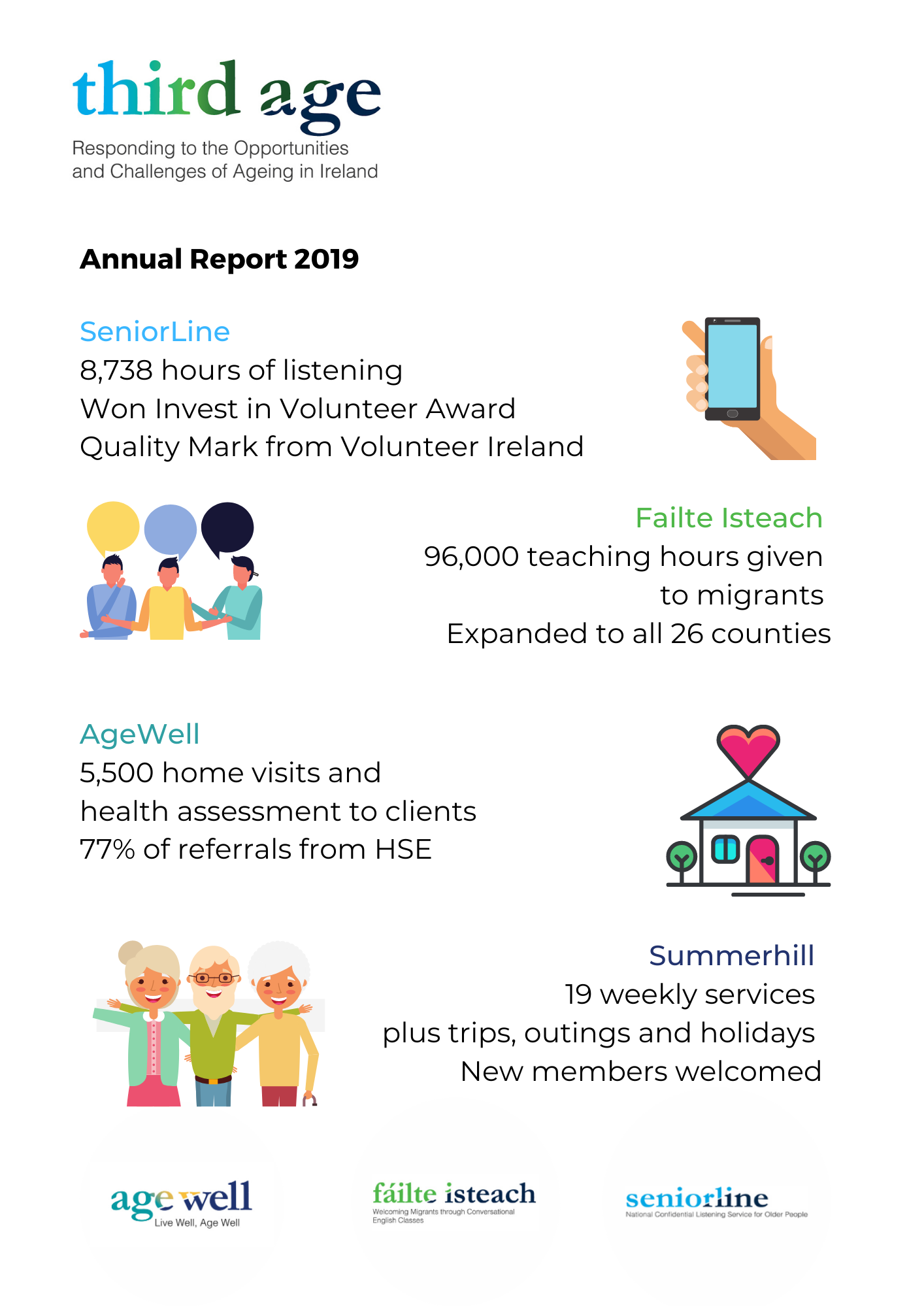 Most of us welcome the special arrangements for Christmas that begin today, Friday, December 18th, allowing us to invite visitors into our homes from up to two other households and to travel outside our own county.
However, this easing of restrictions can also cause worry and anguish for many, posing difficult choices about how we can balance our need to be safe with our need for togetherness. SeniorLine – Ireland's National Confidential Line – is hearing from older callers, isolating for months, who now long to be with family and friends, but who worry about what it might do for their long-term health.
SeniorLine is a national programme of the charity Third Age. On publication of their 2019 annual report, Third Age looks back on their busiest year yet, directly supporting 15,000 older and marginalised people throughout Ireland and also providing comfort and peace of mind for their families. The report is set against the background of a continuing ageing demographic. The over 60s population is expected to grow to over 1.3m by 2030, pointing to the need for support for older people, particularly providing compassionate care where frailty, loneliness and isolation is an issue.
Last year, SeniorLine won a Google Impact Award and the Volunteering Award from Volunteer Ireland, one of the few NGOs to have done so. In 2019, Fáilte Isteach, the Third Age migrant education and friendship programme, expanded to every county in the republic and began to support migrants in Direct Provision Centres. Our AgeWell programme continued to provide companionship and health information to older and vulnerable people at home, and a new national initiative, Navigate Your Work Future, was developed to help mid-life workers upskill for the future of work. At a local level, Third Age continued to provide vital services to hundreds of local people within the catchment area of the national headquarters in Summerhill, Co. Meath.
Pat, 78, is one of the people supported by the organisation last year. Pat lives alone near Louisburgh, Co. Mayo, and phones SeniorLine every day. 'We have never met, but they are my friends. I can contact them at any time, always get a welcome, and they are there too if I have a problem I need to talk over', he said. 90-year-old John Lee, Navan, Co. Meath says his life has changed beyond recognition since contacting AgeWell. 'It is thanks to AgeWell that I'm still here with a smile on my face. I know their Companions will visit me and phone as well, so it's something to really look forward to. I would say to people; look for help, get out and exercise, don't be moping, get out and try and meet people. These days are brighter' he says.
Lorna Lafferty of the Bray Area Partnership is a coordinator with Fáilte Isteach: 'You see the students coming in with no English and then gaining fluency. There are great spin-offs. They begin getting involved in their own community. Improving their English helps learners participate more fully in society and take part in further education and employment' she says.
Aine Brady is CEO of Third Age: 'We focus on ageing as a positive life stage. Third Age provides older people throughout Ireland with learning and volunteering opportunities helping them to get more out of life and make a positive difference in their own communities. At the other end of the scale, we are also committed to helping alleviate the social isolation that primarily affects older people and can also reach into every generation', she says. 'Life has changed for all of us since 2019. Funding then was a challenge for many charities and this has been exacerbated by Covid-19, in that we have had to cancel many fundraising events. Third Age has repurposed to continue to provide all our programmes in 2020, without any break of service. We know that coronavirus has impacted particularly on older people, and this has been reflected in a greater demand for our services - calls to SeniorLine, for example, have doubled this year. We are very glad to be of service to the state, particularly now. The needs of an ageing Ireland are evolving, and I know Third Age will continue to adapt to meet the needs of our growing older population, while remaining relevant, practical and caring', she says.
Read the full 2019 Third Age Annual Report
SeniorLine Freephone 1800 80 45 91 open every day of the year 10am-10pm