1st October 2016
Operation Conversation 2016
Time: 2:00 PM
Location: Albert College Park, Dublin City University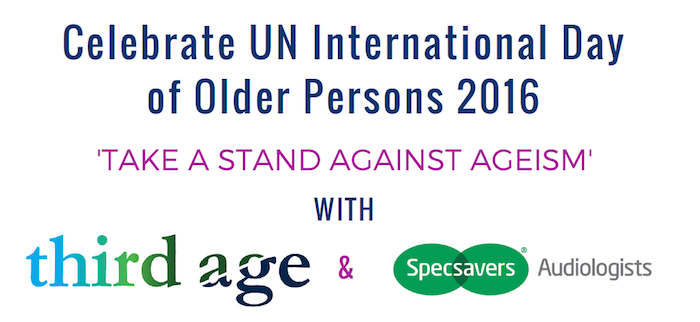 Operation Conversation returns for 2016 to celebrate UN International Day of Older Persons on Saturday 1 October 2016 2-4pm. Third Age in association with Specsavers will host an intergenerational event in Albert College Park at Dublin City University (DCU). People of all ages are invited to take part in Operation Conversation, a free family fun day which aims to combat social isolation and promote greater understanding and respect between generations.
Legendary broadcaster Mícheál Ó Muircheartaigh will launch the event which takes place at DCU, the world's first Age Friendly University. Between 2-4pm, guests can look forward to a day of entertainment and activities including music, a photo booth, face painting and giant outdoor games. To encourage social participation, there will be jigsaws, crosswords and a word hunt with a prize for all participants along with a soap box based on the UN theme for 2016 'Take a Stand Against Ageism'. The impressive line-up of guest speakers includes Helen McEntee TD, Minister of State for Mental Health and Older People and Senator Frances Black.
Áine Brady, CEO of Third Age said, 'Older people are particularly vulnerable to social isolation and loneliness, which can have a detrimental effect on health and wellbeing. Recognising this, we set up Operation Conversation three years ago with the aim of bringing people of all ages together and promoting greater respect and understanding between generations. We would like to thank Specsavers along with all of our speakers for supporting this year's event and making it possible. I would encourage people to join us and have a conversation with someone who may otherwise not speak to anyone else that day and take advantage of the various activities on offer. Events such as Operation Conversation contribute to informing a positive attitude towards ageing and demonstrate the wonderful benefits of intergenerational engagement.'
Speaking ahead of the event, Specsavers Chairperson Sinead Clohessy said, 'We are delighted to collaborate with Third Age for this innovative event which promotes intergenerational social connections and celebrates our ageing population. Many people who come to us with untreated hearing loss have withdrawn from social situations, leaving them feeling isolated and depressed, so it is fitting to work with a charity that works tirelessly to alleviate loneliness through communication and conversation.'
In addition to supporting Operation Conversation, Specsavers stores across the country are hosting coffee mornings on UN International Day of Older Persons and encouraging grandchildren to bring along their grandparents to celebrate their special relationship and enjoy some precious time together.
Third Age would love you to come and join us for the afternoon – get involved in the word hunt, play games, enjoy the music and listen to the interesting and varied speakers.
For more information contact Yvonne at ykeane@thirdageireland.ie or Ruth at rloughran@thirdageireland.ie or call 046 955 7766.